In this article you can learn how to customize and add different tools your website's footer:
In the Editor, click on Design.
Click on Customize and select Footer.

These are the available tools:
Layouts - You can choose one of the three footer layouts: All - Default, Clean and Centered, No Footer.
Click on the drop-down menu to select your preferred option.




Show Social Networks - You can add links from your website to your various social network accounts, such as WhatsApp, Facebook Messenger, Skype, and Telegram.
Switch the button to ON, then click the Edit button to add your social links. Once you add a link to your profile, the respective social network icon will be added to your Footer section.




Floating Contact Buttons - This tool allows your visitors to contact you via popular messaging applications, as each floating button will direct the visitors to the selected app.
Switch the toggle to ON, then click on Add Button to add buttons. You can add buttons to display Email, Phone, Whatsapp, Facebook Messenger, Skype, and Telegram. Drag the icons to change the order of their appearance.
Click on Button Color to set the color to the Main Website Color, Black, White, or Gray.



Greeting Message - You can also set a Greeting Message to your visitors that will appear above the button, five seconds after the page loads, every 24 hours.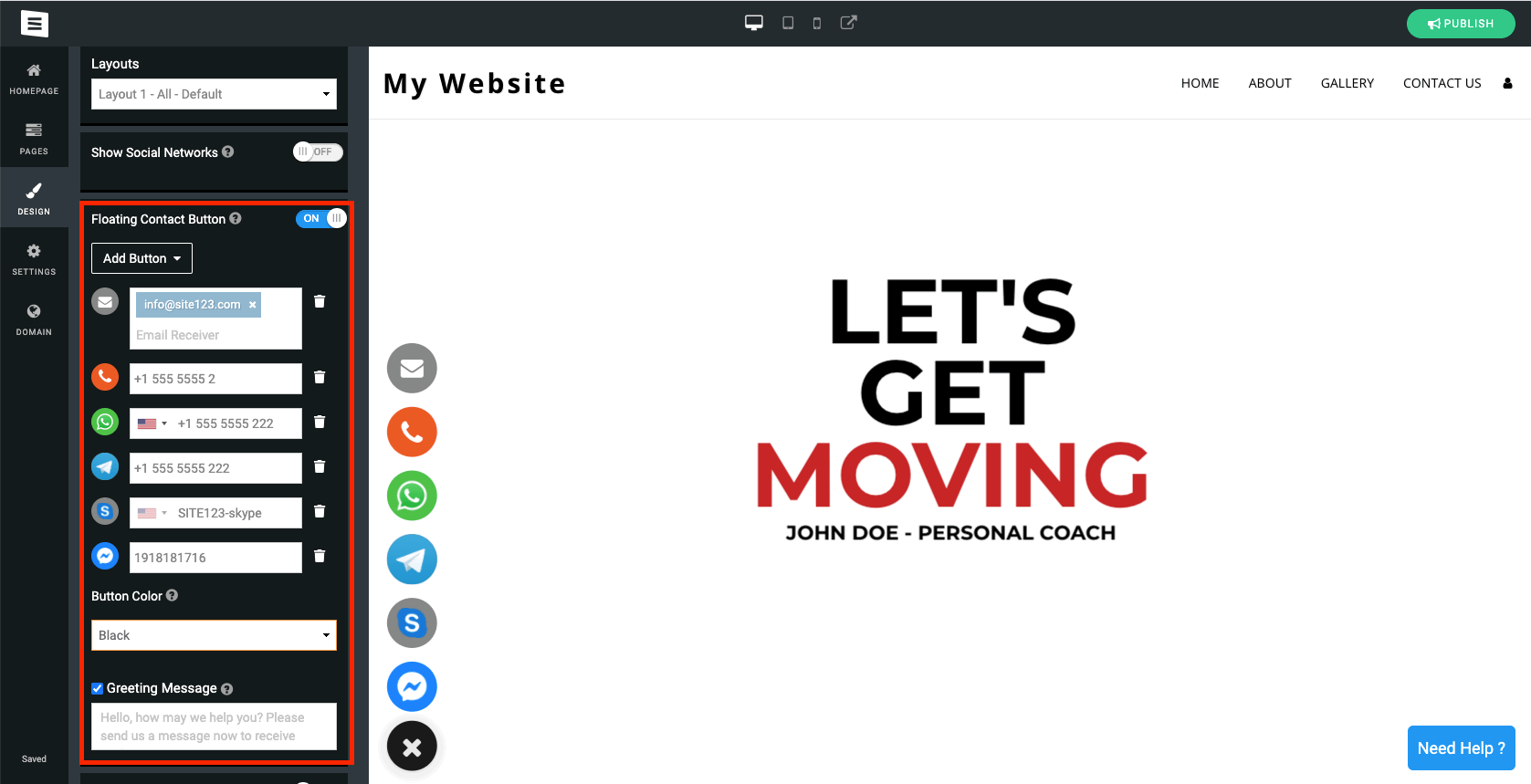 Floating Share Button - This tool allows your visitors to share your website via popular applications, as each floating button will direct the visitors to the selected app.
Switch the button to ON, then click on Add Button to add buttons. You can add WhatsApp, Telegram, Facebook, Twitter, Pinterest, Gmail, Linkedin, and Tumbler buttons. Drag the icons to change the order of their appearance.
Click on Button Color to set the color to the Main Website Color, Black, White, or Gray.



Show Mailing List - You can add a subscription field to let your users subscribe to your Mailing List from the website footer. Read More about Using the Mailing List Tool.
Switch the button to ON to enable it.




Terms of Service - You can add the Terms of Use of your website to the footer section.
Switch the button to ON, then click on the Edit button to add your Terms of Service.




Privacy Policy - You can add a Privacy Policy content which will be added as a link to your website's footer.
Switch the button to ON, then click on the Edit button to add your Privacy Policy.




Cookie Consent - You can activate a "Cookie Consent" banner to display on your website's footer.
Switch the button to ON / OFF to enable or disable the Cookie Consent.