How to Properly Manage Inventory for an Online Store
Proper inventory management for an online store is essential in ensuring that customers have the right products when they order them. The right inventory management system should allow you to track items in stock, anticipate demand, and up your customer satisfaction. Knowing which products to order and in what quantity helps to keep costs down while maximizing profits. This guide will take you through steps to properly manage inventory for an online store.
Table of Contents: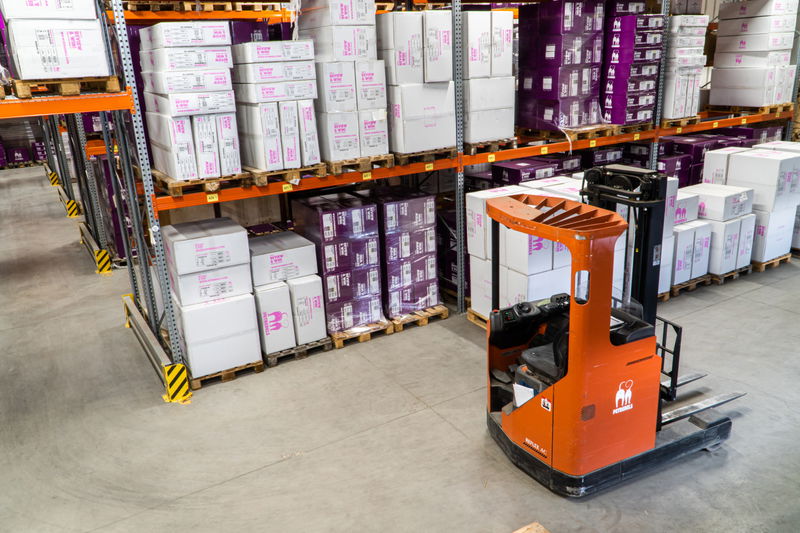 Choose the Right Inventory Management System
Choosing the right inventory management system is an essential step in properly managing your online store's inventory. It's critical to select an inventory system that perfectly meets your needs, so that you can successfully track and manage your store's inventory.

First, consider the features of the inventory system. Make sure that the inventory management system can store and track necessary data, such as product details, stock quantity, stock levels, reordering points, and any other information essential to managing your store's inventory.

You'll also want to look at how easy the system is to use. See if the system is user-friendly and not too technical, as this can make managing your inventory simpler and more efficient.

Finally, decide how much you're willing to spend. Consider how important the inventory management system is to your store, and make sure to balance the cost with the value that the system provides.

An efficient inventory management system is an integral part in managing your online store's inventory. Make sure to carefully consider the features, usability, and cost of the system for a successful implementation.
Do you need a website?
Want to build a website but don't know where to start? Our website builder is the perfect solution. Easy to use, and with the ability to customize to fit your business needs, you can have a professional website in no time.
Create Accurate Item Records
To create accurate item records and properly manage inventory, start by updating the information for each item in the store's database. This includes product descriptions, retail and wholesale prices, and quantity levels.

Record the item's measurements, colors and sizes, as well as any other relevant information. This data should be clearly visible and easily accessible when a customer visits the store website.

It's also important to note when new inventory is added to the store. This helps track sales figures and allows the store to know when new orders need to be placed. To make sure item records are accurate, regularly compare inventory with what's shown in the database.

Finally, always keep backup copies of item records in case of any system malfunctions or data loss. Regularly check, update, and store item records to ensure the store's inventory is up-to-date and properly managed.
Know Your Inventory Levels
Knowing your inventory levels is an essential part of managing inventory for an online store. It's important to keep running counts of all available stock, both on-hand and in-transit, to ensure you always have enough on hand to satisfy customer orders. Many e-commerce businesses also track their stock levels using automatic inventory management software that provides real-time updates on sales and stock levels, so they never risk running out of a product or overstocking on another.

Furthermore, it's important for business owners to stay in tune with customer demand so they can anticipate future inventory needs. A consistent and strategic strategy for ordering stock and monitoring inventory helps to ensure that products are always in stock, business costs are minimized, and customer satisfaction remains high. Ultimately, having the right amount of stock in the right place, at the right time, is key to managing a successful online store.
Understand Your Customers
Understanding your customers is an essential part of properly managing inventory for an online store. Knowing who your customers are and what their needs and preferences are will help you to make informed decisions about what products you should offer and at what prices. Additionally, understanding customer demographics and habits can help you to identify when and where to stock inventory and how much to stock. For example, if you know that a large portion of your customers are from a specific region, you may want to stock more of those items in that location. Understanding the needs of your customers also helps you to prioritize which items you should focus on to better meet the demands of the market.
Analysis and Forecasting
Analysis and Forecasting is a crucial step when it comes to properly managing the inventory of an online store. Analyzing sales trends, ordering cycles and seasonal purchasing needs can help identify the right product mix and order quantities that maximize inventory ROI, minimize out-of-stock events and maximize customer satisfaction.

Forecasting tools can be used to estimate future inventory requirements, such as upcoming seasonal peaks and product demand/replenishment, which is especially important for online stores operating in competitive markets. Automated forecasting provides insight into the product mix and stocking levels required to hit customer service targets, reduce lost sales and optimize inventory costs.
Set Order Quantities
Setting the optimal reorder quantities for inventory items is an integral part of managing inventory for an online store. Reorder quantities should be determined based on the store's seasonality and forecasted sales.

In addition, it is important to consider average levels of demand, lead times, and capacity constraints when determining the appropriate reorder quantities. The reorder quantity should be sufficient to maintain the desired level of customer service and avoid inventory shortages.

It is also recommended to review and adjust reorder quantities on a regular basis to help ensure that inventory levels remain in line with customer demand and changes in inventory costs. Taking a proactive approach to managing reorder quantities allows the store to meet customer expectation and minimize inventory costs.
Employ an Accurate Cancellation/Returns Policy
Having an accurate cancellation and returns policy is essential for proper inventory management in an online store. Cancellations can cause confusion for customers and return orders can disrupt your inventory management process if not handled correctly.

Make sure your cancellation and returns policies are clear and easy to understand. Include information such as how long your customers have to return an item and what conditions would qualify for a refund or exchange. Additionally, make sure your customers are aware of any specific shipping deadlines or other related restrictions.

It is also important to be aware of any legal requirements for cancellations and returns. Make sure you are compliant with the applicable laws and give customers all the information they need to make an informed decision.

Creating an accurate cancellation/returns policy is an important part of running an online store, so make sure you are taking the time to do it correctly.
Summary
Proper management of online store inventory is important to ensure customers are getting the products they need in a timely manner. The right inventory management system should be chosen, which allows for tracking items in stock, anticipating demand, and optimal customer satisfaction. Additionally, having an accurate inventory ledger and return/cancellation policy are essential parts of inventory management.