Why You Should Use a Heatmap to Improve Your Landing Page
Heatmaps can be an invaluable tool used to gain insight into user behavior on websites. Examining how visitors interact with your landing page can help you optimize it for better performance. Heatmaps can provide visual feedback on where people are focusing, how far they scroll, what sections they find interesting, and more. Using this data can help you improve your landing page and make it more effective.
Table of Contents: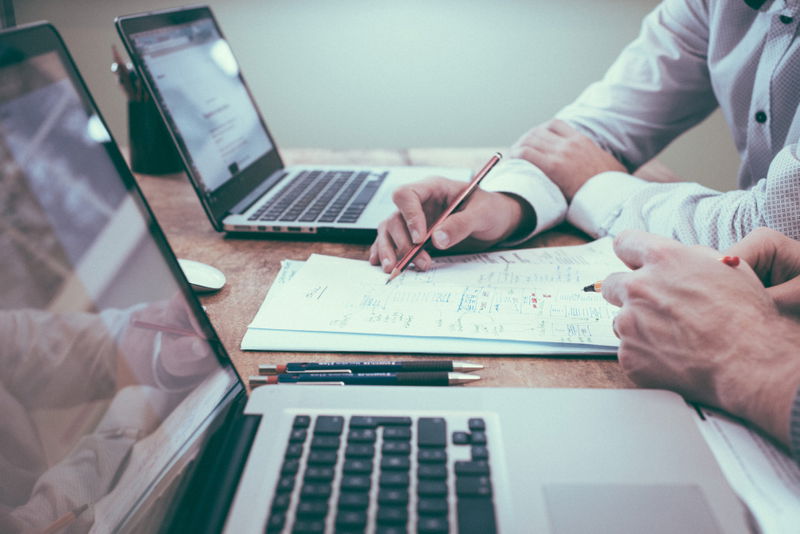 What Is a Heatmap?
A heatmap is a visual representation of data that uses color-coded shading to indicate the intensity of data values. Heatmaps are used to uncover relationships and patterns in data that may not be apparent when looking at the raw data. They are often used in user experience research, analytics, and marketing to better understand user behavior.

Heatmaps can be used to reveal trends, identify problem areas, and reveal opportunities for improvement on a website. A heatmap can help you quickly identify which parts of your landing page are attracting visitors and which areas could use some more attention. By knowing where visitors are spending the most time, you can optimize your design and content to better fit the needs of your visitors.
Do you need a website?
Want to build a website but don't know where to start? Our website builder is the perfect solution. Easy to use, and with the ability to customize to fit your business needs, you can have a professional website in no time.
Understanding Your Visitors' Behavior
Having a good understanding of your visitors' behavior is essential for any website or landing page.
It's important to know which elements of your pages are attractive and enticing for potential customers, and where people are more likely to convert.
Heatmap technology can help you gain valuable insights into visitor behavior.
By tracking mouse movements, clicks, and scrolls, a heatmap can provide a visual picture of which elements of your page are drawing attention, how far visitors are scrolling, and what pathways they're taking as they engage with your page.
All this information is incredibly useful when it comes to improving your landing page in ways that will have a positive effect on your conversions, and heatmaps make it easier to analyze all of this data quickly and effectively.
Personalizing Landing Pages
Heatmaps are a great way to improve user experience. They allow you to monitor how users interact with your website and glean valuable insights into which elements of the page they respond to most. For instance, if certain visitors show high engagement with one headline, you can personalize the landing page for that particular group to increase their chances of conversion. You can also identify which aspects of the page could be improved.

By customizing a page based on user behavior, you can create an optimized experience that boosts conversion rates. Additionally, you can use the data captured by heatmaps to adjust your campaigns and reach your audience more efficiently.

Heatmaps offer an effective way to measure and follow user behavior, helping you craft a captivating, successful landing page that can turn viewers into customers.
Improving Site Layout
A heatmap can help you to optimize the layout of your landing page. By tracking visitors' actions and click patterns, the heatmap provides valuable insights into what visitors find most interesting on the page and what content is not doing its job. You can then use the data to adjust the layout and make strategic changes to improve the conversion rate.

For instance, you might decide to re-position your call-to-action button to direct users to the most important link. Heatmap data can also show you which areas of content are being ignored or not as successful, so you can adjust the layout to reduce clutter and create a better viewing experience.

By using a heatmap to monitor user behavior, you can make sure that your visitors' experience is smooth and that they can access what they need swiftly and easily. This will be particularly beneficial to mobile users, with a layout that's uncluttered and efficient. Ultimately, with the right layout, you will give visitors a much more positive experience, increasing the likelihood of conversion.
Data-driven Results
Heatmaps are a valuable tool to help you analyze user engagement and identify areas of improvement on your landing page. By tracking user interaction and analyzing the resulting data, heatmaps can provide valuable insights for improving your landing page design.

Data-driven results are the cornerstone of a successful heatmap analysis. Heatmap tracking allows you to gain insights into user behavior, including mouse movements, clicks, and scrolls. With these insights, you can identify how users are interacting with elements on your page, where they are getting stuck, and which parts they are spending the most time on.

Once you have collected and analyzed the data from your heatmap tracking, you can use this to inform design changes that can improve user engagement. Heatmaps can provide invaluable data-driven results, helping you to make decisions about key items such as layout and content organization, button placement, and calls to action. These changes can boost user engagement and lead to increased conversion rates.
Summary
Heatmap data can be used to gain a better understanding of visitor behavior on your website, including identifying problem areas, optimizing text and call-to-action, and improving website performance. Heatmap analysis can be used to streamline the process of creating effective landing pages, which can result in higher conversion rates and increased ROI.