Using Photos to Show Off Your Wedding Venue on Your Website
Choosing the right venue is one of the most important decisions you will make when planning a wedding, and properly showcasing it on your wedding website is essential. Using photos can help you create an attractive, informative page that highlights your venue's offerings and perks.
Table of Contents: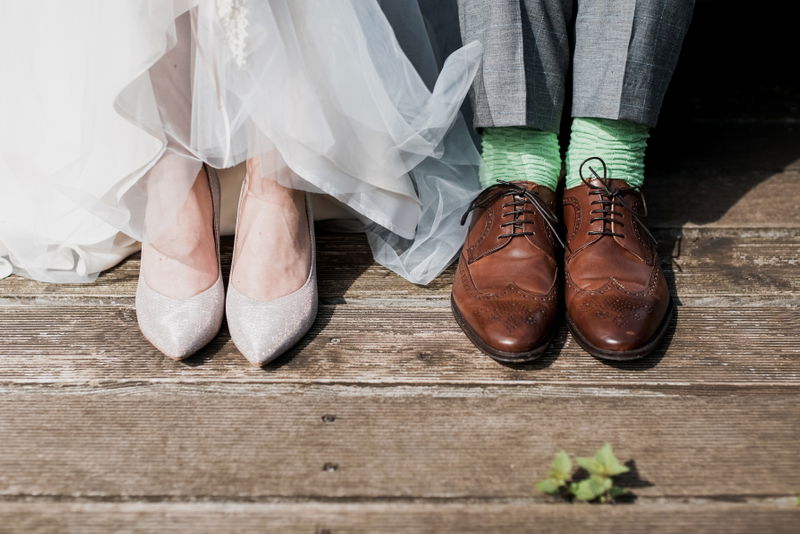 Identifying the Best Photos of Your Venue
If you're showing off your wedding venue on your website, the best photos you can share are those that truly capture the beauty and feel of the space. Make sure to take photos from a variety of angles to give your visitors a sense of the entire layout, and include detail shots of any special elements that make your venue stand out.

Hire a professional photographer to capture the best shots, or borrow a high-quality camera from a friend and take photos yourself. Natural lighting is usually most ideal, and warm tones often create a cozy, romantic atmosphere. If your venue has interesting lighting options, consider a nighttime photo shoot for a different look.

Arrange furniture and decorations in the photographs to make your guests feel like they're already there. Share your photos with potential couples, and be sure to include captions that accurately describe what each one is depicting. By showcasing great images of your venue along with detailed written descriptions, you can help contribute to the perfect wedding-planning experience.
Do you need a website?
Want to build a website but don't know where to start? Our website builder is the perfect solution. Easy to use, and with the ability to customize to fit your business needs, you can have a professional website in no time.
Lighting and Color Balance
Lighting and color balance are essential when taking photos to show off your wedding venue on your website. Natural lighting is often the best lighting for capturing the true beauty of the space and its surroundings. If possible, try to take photos during the clients' desired hours of the day, such as early morning or late afternoon. Color balance is also important - if necessary use a tripod or external flash to create an even light and achieve a neutral color tone. Too much light or too much color will make the photos look unprofessional and could distract or overwhelm potential clients. Using a combination of natural and artificial lighting can create stunning and organic looking photos to show off your wedding venue website.
Including Different Angles of the Venue
When choosing photos of your wedding venue for your website, stay away from cookie-cutter images. Make sure to include images from different angles to get a full understanding of the space available. Include screenshots of the interior, as well as exterior shots that showcase the unique architecture and landscaping. Be sure to also include any special amenities offered at the venue, such as a courtyard, pool, patio, or other similar features. If possible, include a few photos that capture how lovely the venue looks at night, too. These special touches will give potential wedding couples a vivid idea of what their wedding could look like at your venue.
Capturing the Venue's Atmosphere
Capturing the venue's atmosphere is essential when it comes to showing off your wedding venue on your website. A picture paints a thousand words and so taking photos of the atmosphere of the venue can make it much easier for people to visualise your big day.

Try and get the most out of the venue by shooting photos of each unique feature; such as its architecture, the garden, seating arrangements, etc. Detailed images that show off the venue's atmosphere in a professional manner can go a long way. Don't be afraid to experiment with a few different angles, lighting and focal points.

If you take some time and experiment in order to capture the true atmosphere of the venue, it will be easy to create stunning pieces of content which can really showcase the beauty of the venue to your potential wedding guests.
Including Photos of Local Attractions
Photos of local attractions are a great way to show off your wedding venue on your website. They can give visitors a chance to see the area surrounding the venue better, and what amenities are close by. Including shots of the city skyline or nearby beaches, parks, and other attractions will help visitors better visualize what is nearby when they are at the venue. Make sure to add captions to the photos to explain what they are, and to get creative with angles, lighting, and composition. The photos will generate excitement, and can be the difference between a visitor just browsing your website and booking an event with you.
Including Contact Information
Including contact information on your website is essential for couples to book a viewing or make an inquiry. Including an email address, phone number and an online contact form is ideal so couples have a quick and easy way to get in touch with your business.

Furthermore, you should include comprehensive contact and booking information to reassure potential clients your business is legitimate. Including a physical address, business opening hours and any other key information can help to build customer trust, paving the way for bookings.

Finally, you can include a link to a downloadable brochure on your website to provide further information. If the brochure is regularly updated with the most up-to-date details, couples don't have to worry about out of date information being listed on the website.
Creating an Interactive Experience
Photos can be the best way to show off your wedding venue to prospective clients. By creating an interactive experience, you can add an extra layer of excitement that will make guests feel even more excited about potentially holding their special event at your venue.

Start by choosing high quality photos that not only depict the stunning aesthetics of your space, but also capture moments of people gathered in various areas of the venue. This helps visitors envision at how their own celebration would look and feel at your venue.

For an even more interactive experience, you can use interactive 360° that allows guests to explore the site as they would if they were actually there. You can also add short videos to illustrate how the space be transformed for their own special event.

Finally, be sure to take advantage of social media to spread the word about your venue. Yes, photos and videos can be posted on your website but don't forget about sharing them on different social media channels as well. This allows for feedback from people who have seen the venue in real life and will help you reach an even wider audience.
Providing Professional Quality Photos
Providing professional quality photos with your website is an absolute must for any wedding venue. Professional photos of your venue will help prospective customers envision what their special day will look like. Try to include a variety of images that highlight different elements of your venue such as the ceremony and reception space, grounds and gardens, and any nearby amenities like a beach, park or mountains. Of course, it's also important to include images of the surrounding area and your vendors' work to help your customers see the whole picture. Capturing the atmosphere of your venue should also be a top priority - include photos of couples on their special days, the vibrant floral arrangements, tablescapes, and DJs in action. Finally, be sure to use high-resolution images so that your photos look sharp and crystal-clear when viewed on any type of device.
Summary
Using photos to promote your wedding venue on your website is an ideal way to communicate the style and atmosphere of the location. By highlighting its best features and providing visitors with the information they need to make an informed decision, you can help create an engaging and efficient website that really shows off your venue.