The Importance of Establishing a Professional Brand for Your Small Business
A professional brand is essential for any small business. Establishing a professional brand can help visitors to understand what your business specializes in, as well as set you apart from competitors. It helps to ensure that your business is seen as trustworthy and credible, and can help to create a lasting impression.
Table of Contents: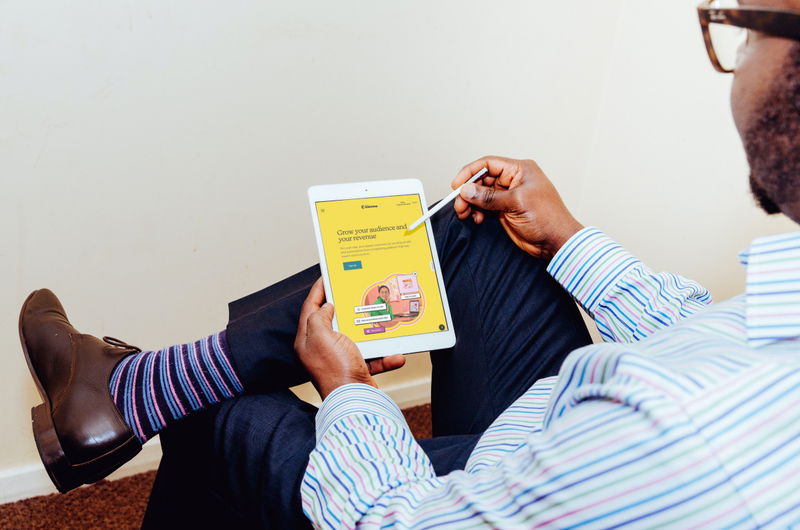 Creating an Effective Brand
Creating an effective brand is essential for any small business to gain credibility, reach its target customers, and stand out from the competition. Establishing a professional brand can be achieved through a combination of cohesive elements. For example, a memorable logo is important for giving your business a recognizable and consistent look. Using the same visual elements, fonts, and colors will ensure consistent representation across all of your marketing channels. Additionally, crafting a brand story will help customers understand the purpose and values behind your business. Spelling out the values and mission of your company can help build a connection with customers while also providing clarity on what they can expect from interacting with your business. Finally, establishing a unique and authentic voice will help create an unfiltered connection with potential customers. Being true to yourself and your brand will help to create a truly distinguishable brand.
Do you need a website?
Want to build a website but don't know where to start? Our website builder is the perfect solution. Easy to use, and with the ability to customize to fit your business needs, you can have a professional website in no time.
Defining Your Business's USP
An important part of establishing a professional brand for your small business is defining your business's USP (Unique Selling Proposition). This should be the message that sets your business apart from the competition. It should answer the question "What can my business offer my customers that the competition doesn't?" It should be an attractive, motivating and memorable message that will draw customers to your business and keep them coming back for more.

It is important to take the time to formulate a USP that is well crafted, eye-catching and delivers your message clearly. You also need to ensure that it remains distinctive, relevant and continuously promotes your business's unique value proposition. Doing so will help establish your business as a professional brand that customers can trust and rely on.
Curating Consistent Visuals
Establishing a professional brand for a small business is important for success in today's market. Having a consistent, cohesive visual persona across all channels will help set your business apart from competitors.

Curating consistent visuals plays a key role in this process. An effective plan for streamlined visuals should include a logo and color palette, as well as typography and imagery. Your logo should be easily recognizable and unique to your company. A compelling color palette should be used in all marketing materials. For typography, the same typefaces should be used across all channels. Additionally, it is important to maintain the same visuals throughout all social media accounts. For example, if you use photography, make sure that it looks consistent with other images used across channels.

Consistent visuals are essential to establishing a strong brand. By taking the time to develop and curate visuals that are cohesive, your small business will have a well-crafted image to deliver to the public.
Developing a Professional Logo
Creating a professional logo is an important step in establishing a professional brand for your small business. Your logo is the face of your company, representing not only its values, but also its level of professionalism. It should effectively communicate your company's message and brand identity to your customers.

When designing your logo, think about the look and feel of your company. Consider using colors that represent your brand, and font that accurately reflects the message you are trying to communicate. Additionally, try to capture your brand's core values by incorporating elements that reflect the industry you serve, or the qualities that distinguish your business.

Be sure the logo you create is effective regardless of the size or format in which it's used. For example, will the logo look just as good on business cards, webpages and billboards?

Above all, develop a logo that clearly conveys the message of your company and will make a lasting impression on customers. When done correctly, investing in a well thought-out logo can make a big impact on the success of your small business.
Utilizing Social Media
Utilizing social media is a powerful and cost-effective tool for businesses looking to establish a professional brand. By creating a well-defined and visually engaging presence on social media, you can improve brand awareness, build a loyal audience and even start conversations with potential customers. Additionally, you can use platforms like Facebook, Twitter, and LinkedIn to develop relationships with industry professionals that may become partners, vendors, and allies for your business. Developing a consistent voice and publishing regularly updated content will help you achieve a high level of visibility and foster credibility among your customers and industry peers.
Building an Online Presence
Creating an online presence for your business is essential for establishing and strengthening your professional brand. Building an online presence involves utilizing various digital and social media platforms such as a website, LinkedIn page, and Twitter handle. This ensures that you reach the widest range of customers, and keeps them informed about your business.

Creating professional, eye-catching content is key to ensuring that the content you produce leaves a lasting impression on potential customers. Content such as blogs, videos, podcasts, and infographics all help to showcase your unique offerings and establish your business as an industry leader.

Engaging with customers online is also vital for building a successful online presence. Replying to comments and questions on social media, developing a customer loyalty program, and hosting online events are all great ways to create an interactive environment between you and your customers.

By consistently providing high-quality content and engaging with customers online, you're sure to build a successful online presence that will help you to establish a memorable professional brand.
Understanding the Role of SEO
Establishing an online presence is an important step for any small business. Utilizing search engine optimization (SEO) can help optimize a website and propel a small business to success. SEO is a technique used to increase a website's visibility in search engine results. A good SEO strategy can target potential customers and bring more visitors to a website, thus opening the door to more potential sales.

It is important to understand the role that SEO plays in driving business. SEO techniques are used to help a website appear higher in search engine results, bringing in more organic website traffic. Good SEO practices can help boost business by improving website visibility and driving more customers to the site. When properly implemented, these techniques can be an invaluable tool for a small business. It can be difficult to understand the nuances of SEO, but having a basic understanding of how it works and its importance can help small business owners maximize their online presence and create successful customer engagement. By investing in a professional SEO strategy, businesses can gain visibility, increase site traffic, and capture customer sales.
Developing Positive Customer Experiences
Creating positive customer experiences is paramount to establishing a professional brand for your small business. Satisfied customers will not only bring you long-going business, but they will also serve as brand advocates. To create a positive experience, focus on providing personalized customer service, a high-quality product or service, and a reasonable price.

Ensure your customer service reps are knowledgeable, friendly, and approachable. Train them to listen to customers and anticipate their needs, so they can provide accurate and helpful suggestions. Utilizing technology to make the customer experience easier and more convenient is also important. Consider offering automated services, an online chat feature, online ordering, and other customer-centric solutions.

Be transparent about the cost and quality of the product or service you provide. Customers appreciate an honest and ethical business relationship. It's important to provide clear and accurate information about your services as well as any hidden charges or fees associated with them.

Creating positive customer experiences is paramount to establishing a professional brand for your small business. Spend time planning and implementing customer service with your team to ensure customers have a positive experience every time they interact with your business.
Summary
Establishing a professional brand for your small business is an essential part of creating a successful company. A defined brand helps to communicate your message, establish credibility and trustworthiness, and provide your business with an overall competitive edge.