The Benefits of Automated PPC Management
Automated PPC management can provide businesses with many benefits, such as improved accuracy and time savings. Automating certain actions through PPC management platforms enables businesses to focus on more important, high-level tasks, increasing efficiency and reducing costs.
Table of Contents: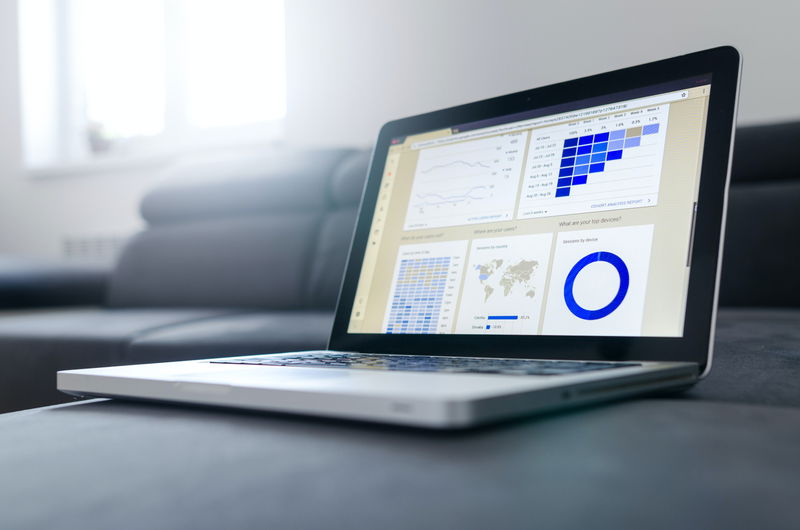 Increased Accuracy
The benefits of automated PPC management include increased accuracy. This means that marketers no longer have to manually enter the same data into multiple platforms. Automated PPC management helps to streamline processes and make sure campaigns are always up-to-date. It also allows marketers to save time and money, as they no longer have to manually check and adjust campaigns on multiple platforms. As a result, campaigns are more successful and accurate than ever before. Furthermore, campaigns can be adjusted in real-time, so marketers can quickly see the effect of their changes and make adjustments accordingly. Finally, automated PPC management reduces the amount of human error, which helps to ensure campaigns are delivered accurately and on-time.
Do you need a website?
Want to build a website but don't know where to start? Our website builder is the perfect solution. Easy to use, and with the ability to customize to fit your business needs, you can have a professional website in no time.
Time Savings
Time savings is an important benefit of automated PPC management. For businesses utilizing this type of tool, the system itself is designed to take care of the tedious and time-consuming tasks involved in managing a successful PPC campaign.

By automating each of the steps that go into a PPC campaign, a business can save countless hours in both set up and daily monitoring of the campaign. Automated PPC management can spot inefficiencies and eliminate them before they cause any major damage. Not only that, but it can also take advantage of every opportunity to optimize an existing campaign.

Additionally, automated PPC management systems are able to remain active and alert even when humans aren't. This allows campaigns to continue running on a daily basis with little to no manual intervention.

Overall, automated PPC management systems are able to dramatically reduce the burden of creating, maintaining, and optimizing a successful campaign - which translates to valuable time savings.
Increased Efficiency
Automated PPC management is an excellent tool for increasing efficiency. By eliminating manual processes, time and effort that would have been spent setting up, managing and optimizing campaigns can now be freed up for more important tasks. Automated PPC management can also reduce manual errors and ensure campaigns are being managed correctly with precision. The ability to optimize campaigns more quickly and accurately leads to better performance and improved ROI. Automated PPC management allows marketers to utilize data in real-time to refine campaigns and continually reach optimal performance. Instead of having to manually review and adjust campaigns based on performance, automated software can do it all for you. With automated PPC management, campaigns are running optimally at all times without wasting valuable resources.
Reduced Costs
Reduced costs are one of the main benefits of automated PPC management. Automated PPC solutions generate detailed reports on data, including the cost required to achieve specific results. This detailed information allows companies to quickly identify where they can save.

Using these reports, businesses can find areas that they can reduce their investment, as well as optimize placements to maximize their return on investment (ROI). Automation also makes it easier to assess and control spending, providing the ability to set budgets and cut off spending when returning profit comes to a certain point. Furthermore, automated PPC solutions can allow companies to optimize their bids and maximize the use of budgets in real-time, meaning that no budget goes to waste.
Better Quality Advertisements
Automated PPC management provides better quality advertisements by allowing companies to customize their PPC plans according to their customer's needs. Using automation, companies can customize ads to target specific demographics, making sure that valuable customer segments receive the best quality ads. Automated PPC management allows for A/B testing, where businesses can identify the most effective ad elements and refine their campaigns for better results. Furthermore, automation takes the guesswork out of budgeting, ensuring businesses stay within their budget and campaign goals. Companies can analyze the performance of their campaigns quickly, ensuring that valuable customer segments receive ads more efficiently. Automated PPC management also eliminates the need for manual maintenance, allowing businesses to focus on the creative and strategic elements of their campaigns.
Improved Market Insights
Automated PPC management offers many benefits, among them improved market insights. Through an automated system, PPC managers are able to quickly view broad market trends and make informed decisions on their approach. Automated PPC management systems leverage data from various sources in order to provide detailed reports and insights on conversions, average cost per click, and other relevant metrics. These insights enable marketers to quickly recognize potential opportunities for their campaigns and turn them into successes. Additionally, automated PPC systems can be tailored to provide campaigns that are better tailored to audience interests and behaviors. By leveraging market insights from an automated system, PPC managers can make decisions quickly and accurately in order to maximize their budget and get the most out of their campaigns.
More Effective Targeting
Automated PPC management provides businesses with the ability to more effectively target their ads. With powerful precision targeting tools, businesses can hone in on the demographic and location they want their ads to reach. This can help increase their relevancy, which increases the chance of success. In addition, automated PPC management provides businesses with access to real-time insights that allow them to determine what campaigns are working and where to make changes. This ensures businesses are making the most of their ad budget.
Reduced Manual Errors
Automated PPC management solutions help reduce the risk of costly manual errors. With automatic updates to your campaigns, you can ensure that none of your ads contain incorrect or outdated information. These automated updates can also control your budget so you don't risk overspending. Automation also helps to keep campaigns running more efficiently, reducing the amount of manual labour needed to monitor and adjust settings. By removing manual errors, you'll save time and money while eliminating any worries of inaccurate ad campaigns.
Summary
Automated PPC management can result in numerous advantages for businesses, such as increased accuracy and time savings, improved efficiency and market insights, better-targeted ads, and fewer manual errors.