How to Choose a Website Template For Your Website?
Picking the right template could be crucial for your site. Learn how to choose your website template.
The availability of free website templates has made the job of establishing a presence on the internet considerably easier. With a small financial outlay and just a bit of time, it is possible to create and organize hosting for a professional-looking site without the need for any technical know-how. But it is of course important to ensure you choose the right template to begin with.
For many businesses, their website is the first point of contact for customers and so it's essential to set the right tone and make a good initial impression. The same is true if the website is non-commercial. The following are points on how to choose a website template, and it's worth considering before selecting a free website template.
Table of Contents: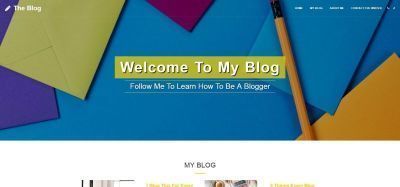 Usability
One of the first things to take into account when looking at a website template is whether it will actually provide a good visitor experience. Usability is key. If a website is difficult to navigate and has a confusing layout then the chances are visitors will not stay long. Consider how you would like people to navigate their way through your site in an ideal world, and what you want the final outcome to be. It might involve them purchasing a product or perhaps requesting further information. If your website is easy to navigate then it's far more likely to appeal to visitors and keep them on the website for longer.
Do you need a website?
Want to build a website but don't know where to start? Our website builder is the perfect solution. Easy to use, and with the ability to customize to fit your business needs, you can have a professional website in no time.
Visual impact
First impressions matter, especially on the web where there is a huge amount of content available. Most marketers will tell you that you have just a few seconds to get the attention of a visitor. When considering a template, think about what will appeal to people who are interested in your product, service or web content. Will a big image on the homepage work best, or perhaps a few lines of sharp, snappy text? As soon as your page loads, the clock starts ticking. Ensure your site makes a statement.
Color schemes
Choosing a color scheme for a website can be particularly difficult. Again, it is all about the impression you want to create. Bright colors will convey a sense of fun and vitality, while more conservative shades of grey, dark blue and plenty of white can be used to create a more corporate feel. Can you imagine a bank's website splashed with pink and yellow? Would a blog about food and drink be likely to use lots of neutral and dark shades? Perhaps, but think carefully about what kind of impression you are looking to make and the overall theme of the site. The good news is that with SITE123, there's a huge range of options and template categories to choose from, so hunting down the ideal color scheme shouldn't be an issue.
Functionality
When it comes to launching a website for the first time, many people believe it's best to stick to the basics and get something up and running – even if it's not something with which they're 100 percent happy. It's important to remember though that you need to create a good impression right from the start. It's also worth considering what kind of functionality you need the site to have going forward. If you are building a corporate website, will there be a web store? If you are an accommodation provider, will you need an online booking form? Most website owners will want to have some kind of contact form on the site too. Plus, with the number of smartphone users around the world set to hit anything from two billion upwards in the next few years, ensuring a site is optimized for mobile is a must. SITE123's free website templates are all designed to adjust automatically when viewed by a mobile device.