Create Your Website with the Best Website Builder
You can create any kind of website that you need with SITE123. Make your own website with SITE123. Our website building software is made to be the easiest website builder online. You can build your site without needing a hosting company or a web developer.
Table of Contents: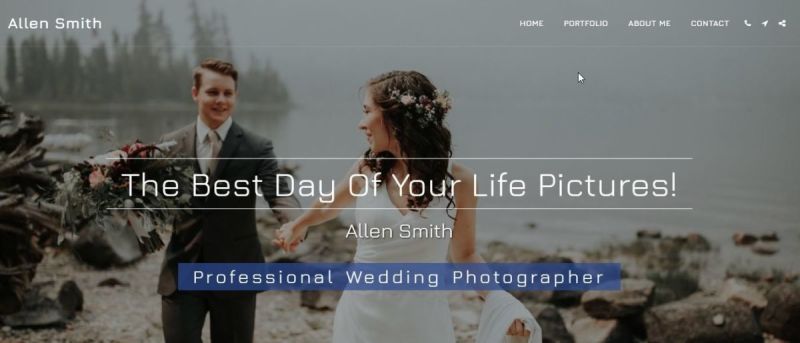 The Website Builder That's Perfect for You
Do you want to build a website? How about a beautiful website that is easy to make and has 24/7 chat support? SITE123 can meet your needs. No matter what kind of website you need, we can help you. Our system is one of the best website builders and lets anyone be able to make a modern and professional looking website. Want to implement even more novel features? SITE123's app market lets you add dozens of 3rd party apps to make your website even more functional and powerful.
Do you need a website?
Want to build a website but don't know where to start? Our website builder is the perfect solution. Easy to use, and with the ability to customize to fit your business needs, you can have a professional website in no time.
Select a Designer-Made Website Type
We have hundreds of website types to pick from. Browse through our many categories and pick the type that best fits what you want. Your website type is a ready-made template; once it is made, you can modify it as much as you want. You take the design and make it yours! On top of that, all SITE123 templates are completely mobile responsive, and will look fantastic on any device.
Choose your Layouts & Website Structures
The SITE123 website creator will give you the website you want. Every important feature is customizable and everything else is carefully designed to make your website keep its professional look. Change images, buttons, video, text, insert different pages with different features, the choice is yours. Change the structure of your website and choose between different page layouts to make your website stand out.
Enjoy Useful & Intuitive Features
SITE123 gives you a huge amount of features to take advantage of. You can schedule appointments for services and run an online store. You could also start an informative blog and customize your website's design and function. Insert beautiful media galleries that show off your content and content pages that can display anything.
Add 3rd Party Functionality
Using SITE123's App Market, you can implement dozens of popular and useful apps and plugins with ease. You can connect to online databases, add content into your designs, track user information, and track browsing data for all the visitors of your website. It is powerful, comprehensive functionality that will give your website advantages in the global marketplace of goods, services, and ideas.
The Process
Make your fantastic website with SITE123's easy-to-use system. Read through the essential steps below to learn about how to get your website online and drawing in viewers. A - #Choose the right website type# - SITE123 lets you build any kind of website type that you want. We offer many categories and even more subcategories including business, restaurants, events, and many more. On top of this, anyone who buys a yearly premium plan gets a free domain for 1 year! B - #Edit your Website Layout & Structure# - The layout and structure is where you add some details to the design you want. On top of this, all websites are fully mobile friendly! C - #Add your Personal Content# - When adding your content, you need to focus on the visuals. Adding colors, uploading images and videos, writing personal details, etc. D - #Implement Social Media & Contact Info# - SITE123 allows you to add social media buttons to your header and footer. These buttons link to your respective social media accounts. This is also a great time to add your personal details to your contact us page. E - #Manage Your Website Features# - If you have a blog, online store, or booking service, you will need to update these! Your website is a living document so make sure to keep updating it all the time. People will notice the professional design and compliment you on how great your website looks! F - #Connect Your Domain# - Have your own domain? You can easily connect your domain to the SITE123 website you created. Any premium plan allows you to connect your domain and showcase the investment and professionalism you are putting into your website. G - #Publish Your Website Online# - When you website is ready, all you need to do is publish it. All you need to do is click the green "Publish" button in the editor panel and your website will be live. Improve your SEO and watch your results on the search engines soar.
Join millions who chose SITE123 as their website builder
#Do I have to buy a package up front?# No, you do not. There is no need to give your credit card or anything else. You can design your website for free using a free plan for as long as you like. We give you tools that let you create websites superior to a drag and drop website builder. If you ever want to upgrade your website to a premium site, you can whenever you like. #How do I begin?# First, rest assured that you've found the easiest, most supportive website builder on the market. We will help you make a beautiful, professional website, no matter what your website type is. Start your website with SITE123 today. #What do I have to do to start my website?# You won't believe how easy it is. Click here (link) to start your website. You'll see a list of website types - Pick which one best fits the type of website you want. Once you do, there are sub-types of websites for each category. This allows you the flexibility to pick the perfect website type for you. You don't even need web hosting, that comes included with our software package! Once you make your choice, the template will be generated and you can start working on your design! #I'm not a web designer - How do I make my website look professional?# SITE123 designed its software for people who are amateur computer users, people who are not professional website designers or graphic designers. Our editor is tailor made to fit new users, guiding them through the process of design. We allow many design options while making sure common design errors cannot be made. This guided system allows anyone with basic computer skills to make a professional looking website. That is what SITE123 was designed to do - to be as user friendly as possible! Check our our website builder reviews to see just how satisfied our customers are about that. #Can I use third party services on my SITE123 website?# Yes you can! SITE123's App Market features dozens of powerful apps that let you add third party software. These apps perform many useful features, from making custom forms to tracking browsing habits and implementing live chat, among other services! These third party apps and plugins will make your website even more professional and useful for your viewers.
Start your website today with our Free Website Builder
Create the website you want with SITE123, the world's easiest website builder.