Using the Portfolio Page you can add your work, create categories, and separate them into subcategories inside.
To edit the page:
In the Editor, click on Pages.
Locate your Portfolio page, or add it as a new page, and click on the Edit button next to it.
To add a new item, click on the Add New Item button and enter the relevant details:

Title - the name of the category
Main Image for the category (size limit is 50MB). You can add filters to the image, crop it, and adjust the focus point.

Under Portfolio Images - Section 1 enter the relevant details:

Title
Description
Upload more images (size limit per image is 100MB)
Add more Sections to your convenience

You can also use the Custom SEO tool to set custom meta tags.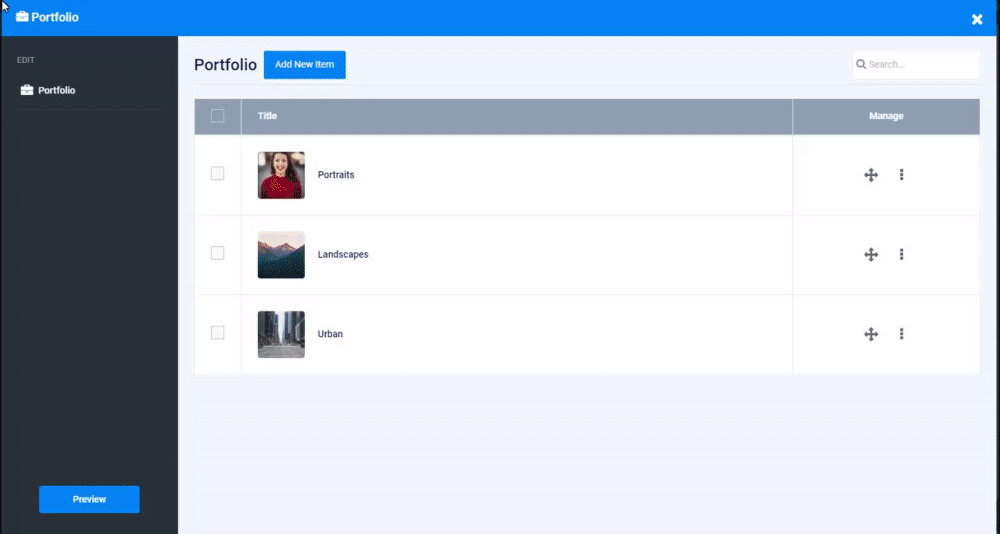 ---
Please note:
Under the Manage column, you can change the order in which an item appears by clicking on the four-way arrow icon and dragging. Clicking on the three dots button will allow you to Edit, Duplicate, or Delete an item.